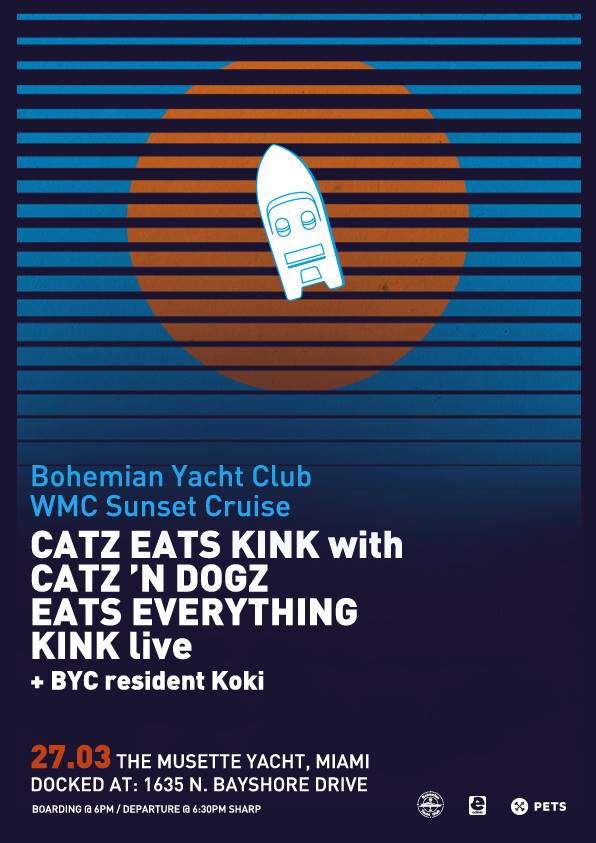 The Bohemian Yacht Club is back for W.M.C 2015
We are proud to announce our annual sunset WMC cruise with a special presentation of CATZ EATS KINK feat. CATZ 'N DOGZ, EATS EVERYTHING and KiNK live. Also on deck, BYC resident KOKI.
Presented by:
Bohemian Yacht Club, Pets Recordings, Platform, Embrace Productions
Join us as we cruise the South Beach waters aboard the luxury Yacht Musette. This is an extremely limited capacity cruise with only 300 tickets being sold.
Boarding Begins @ 6pm.
Departure @ 6:30pm sharp.
(please arrive early, We will not wait for you)
Tickets @ more info: http://www.residentadvisor.net/event.aspx?675097
The Musette Yacht is Docked at: 1635 N. Bayshore Drive, Miami, Fla. 33132
YOU MUST BRING ID TO BOARD THE YACHT. YOU CANNOT BOARD WITHOUT PROPER IDENTIFICATION.
21+
Fine Food available on the yacht for purchase.