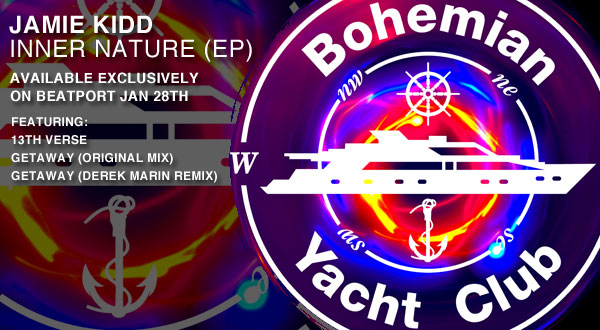 Continuing the success of the Bohemian Yacht Club (BYC) boat cruise series in Miami and Toronto, the new record label "Bohemian Yacht Club Music" publishes a selection of music from the inspiring artists and remixers that have grown with the events. Bohemian Yacht Club Music searches for organically grown talent with free spirit and a sound sense of audio, striving to elevate your artistic experience to the next level.
Bohemian Yacht Club Music's BYC001 Out now on Beatport!!
http://www.beatport.com/release/inner-nature-ep/1006973
** Jamie Kidd – Inner Nature (EP) featuring **
13th Verse
Getaway
Getaway (Derek Marin Remix)
Jamie Kidd launches the Bohemian Yacht Club label with his Inner Nature EP. Chordal harmonies, haunting atmospherics, and rolling analog bass characterize these two distinct deep tech cuts. Remixer Derek Martin strips down 'Getaway' to its raw elements and ramps up the dub with this 4am warehouse rework.
Download this release today from beatport - http://www.beatport.com/release/inner-nature-ep/1006973 or for additional information, visit www.bohemianyc.com
—-
With support from :
Catz 'N Dogz – "nice one guys . will play"
M.A.N.D.Y. – "will download. thank you for good music!"
Maher Daniel – "DOpe stuff from Jamie kidd here really liking this will test out for sure"
James Teej – "nice release guys. full support to the yacht club!"
Droog / Culprit (LA) – "digging 13th verse, nice warm-up gear"
Brett Johnson – "Killer release… Thanks."
Arthur Oskan – "really dig the bass/melody. support!"
Jonny Cruz – "this EP is badass…will be charting and playing!"
also support from John Digweed, MANIK, Andrew Grant + more