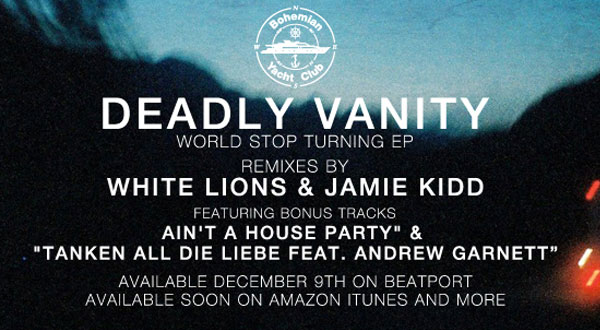 Continuing the success of the Bohemian Yacht Club (BYC) boat cruise series in Miami and Toronto, the new record label "Bohemian Yacht Club Music" publishes a selection of music from the inspiring artists and remixers that have grown with the events.
Bohemian Yacht Club Music's BYC004 Out December 9th on Beatport!!
DEADLY VANITY – WORLD STOP TURNING EP (BYC004)
1 – World Stop Turning feat. Mercy
2 – World Stop Turning feat. Mercy (Jamie Kidd Remix)
3 – World Stop Turning feat. Mercy (White Lions Remix)
4 – Ain't A House Party
5 – Tanken All Die Liebe feat. Andrew Garnett
This is Deadly Vanity's debut release "World Stop Turning" EP. Deadly Vanity is the monicker of Joel Waznicky and James MacGregor – a Toronto duo that have been DJ'ing at venues across the city for many years. This EP features two remixes of the original by Jamie Kidd and White Lions. The release also features two additional original tracks of Deadly Vanity's own creation – "Ain't a house party" and "Tanken all die Liebe" featuring vocals by Andrew Garnett.
Review: http://www.inhale.org.uk/reviews/4347/deadly-vanity–world-stop-turning-ep