Events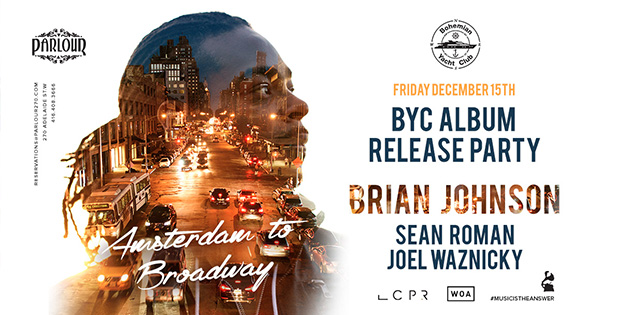 Previous Events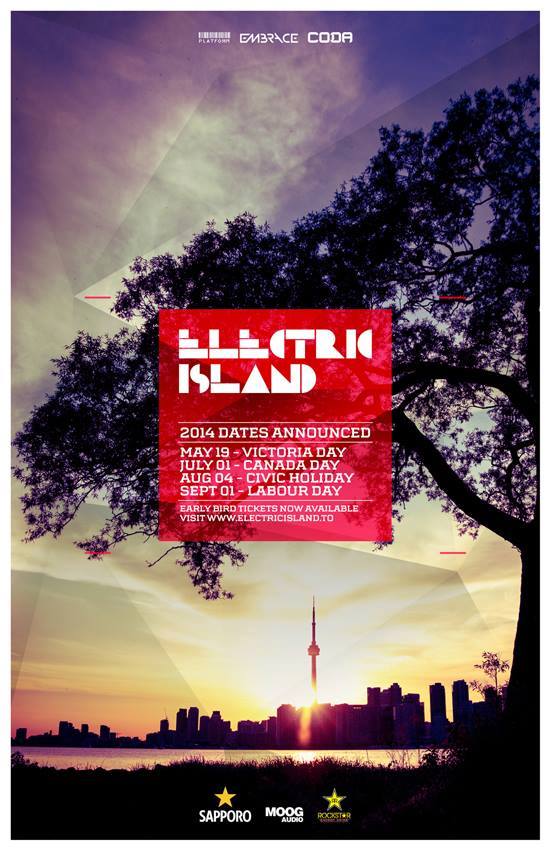 ELECTRIC ISLAND announces dates for the summer 2014 season @ Centre Island, Toronto EARLY BIRD TICKETS NOW AVAILABLE  Click Here Look for more info to be announced soon on Electric Island Official website  http://www.electricisland.to/ or facebook page  https://www.facebook.com/Electricislandto  ..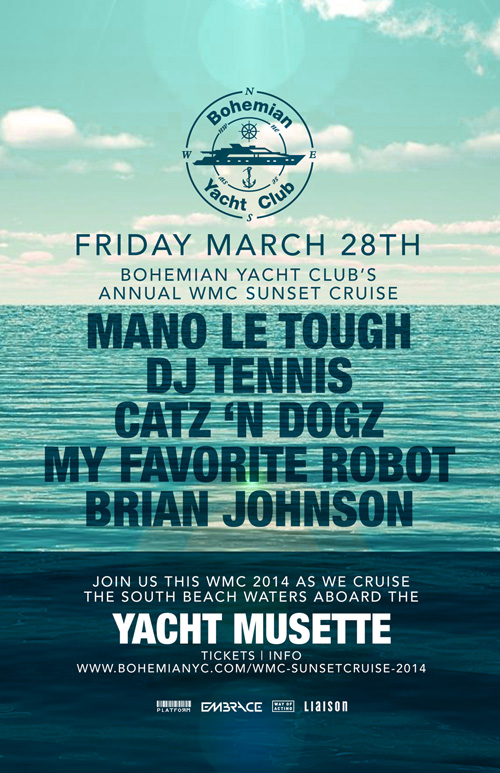 March 28, 2014
TICKETS CLICK HERE - AVAILABLE ON RESIDENT ADVISOR The Bohemian Yacht Club is back for W.M.C 2014 We are proud to announce our annual sunset WMC cruise. Featuring : Mano Le Tough DJ Tennis Catz & Dogz My Favorite Robot Brian Johnson Presented by: Bohemian Yacht Club, Platform, Embrace Producti ..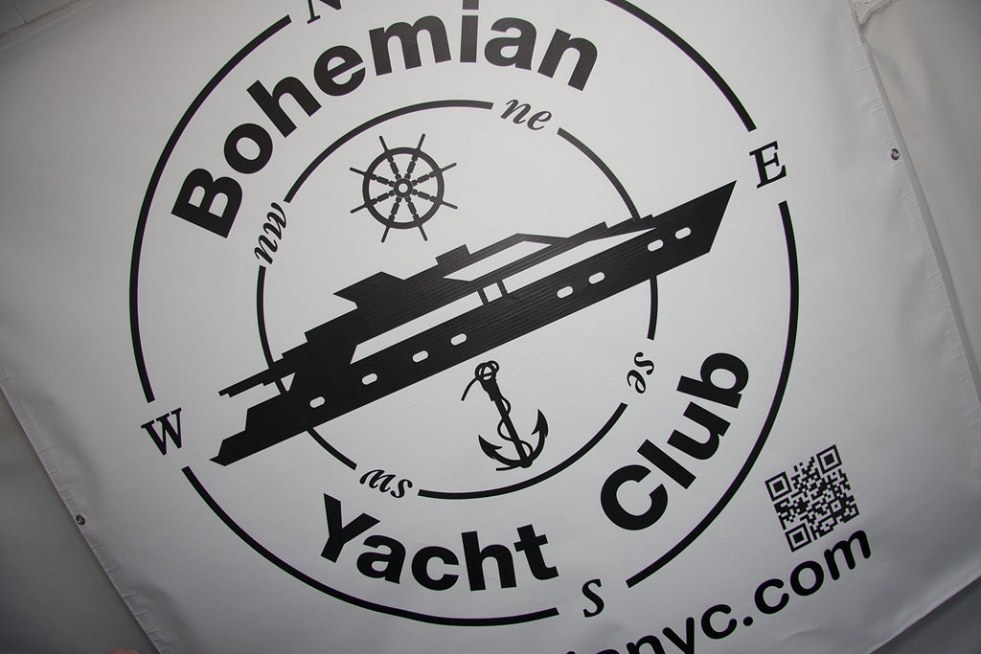 March 22, 2013
Bohemian Yacht Club cruise 2013 has been announced. featuring: Jupiter Jazz (Maceo Plex + Danny Daze) My Favorite Robot Brian Bejarano Join us as we sail the South Beach waters aboard the luxury Yacht Musette. This is a limited capacity cruise with only 300 tickets being sold. Get your ticke ..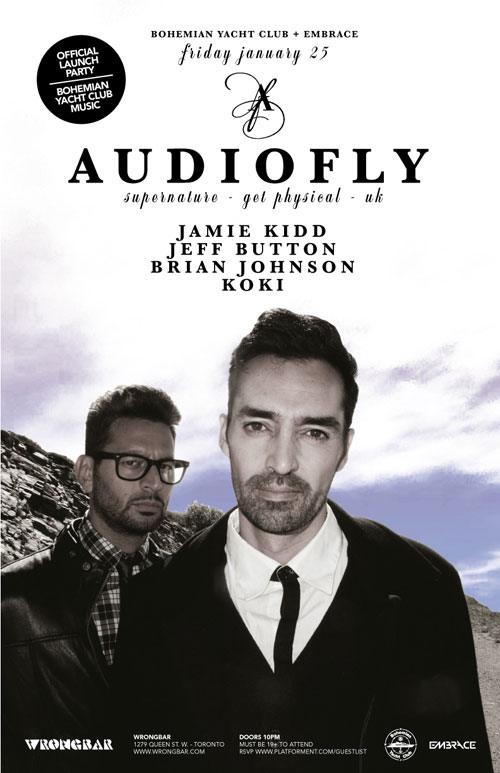 January 25, 2013
Bohemian Yacht Club Music and Embrace presents: AUDIOFLY (Supernature - Get Physical | UK) http://www.facebook.com/AudioflyOfficial?fref=ts http://www.wearesupernature.com/ http://www.weareaudiofly.com/ JAMIE KIDD JEFF BUTTON BRIAN JOHNSON KOKI Also the BOHEMIAN YACHT CLUB MUSIC Label Launch!! ..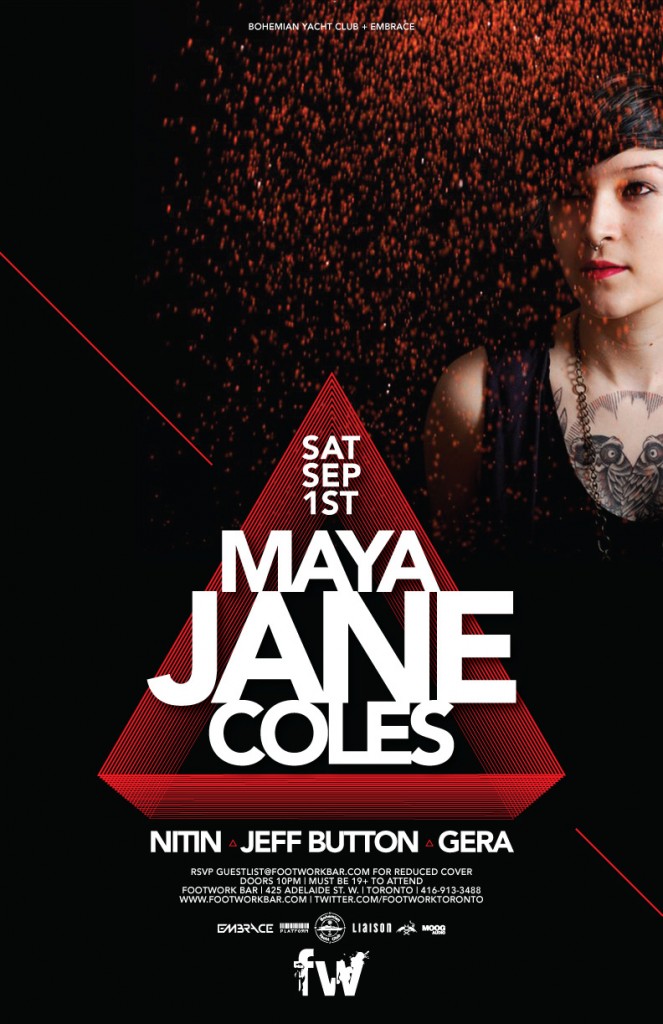 September 1, 2012
Labour Day Saturday Main Event Bohemian Yacht Club, Platform, Embrace adn Footwork are pround to present the Return of The Hottest Artist of the year. The Infamous MAYA JANE COLES (Real Tone Records/Mobilee/Dogmatik/Uk) 2010 has certainly been the year that 23 year old Maya Jane Coles announced ..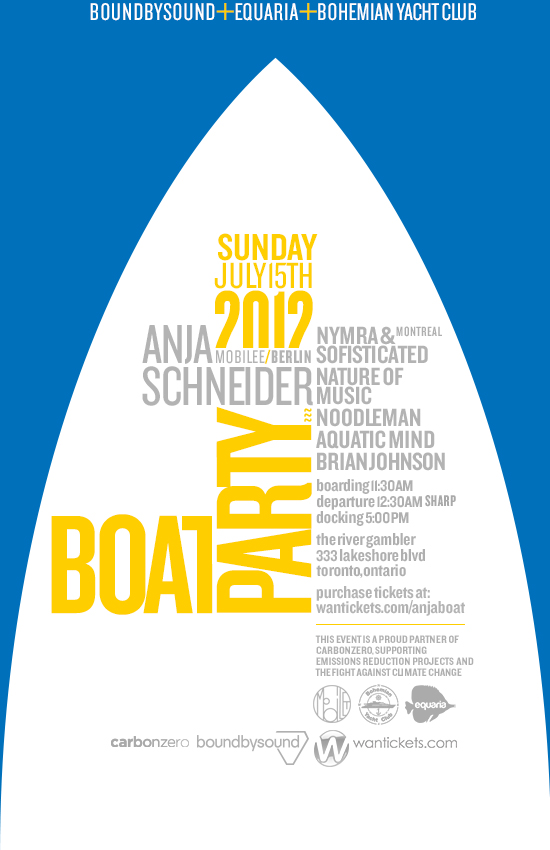 July 15, 2012
Sunday July 15 ANJA SCHNEIDER is back!!! and this time it's on the Newly Renovated River Gambler! 2 LEVELS, 2 SOUNDS !!! Bohemian Yacht Club+equaria+boundbysound present: ★★★ ANJA SCHNEIDER ★★★ Mobilee|Berlin Alongside: ♫ Nymra & Sofisticated (Montreal) ♫ Nature of Mus ..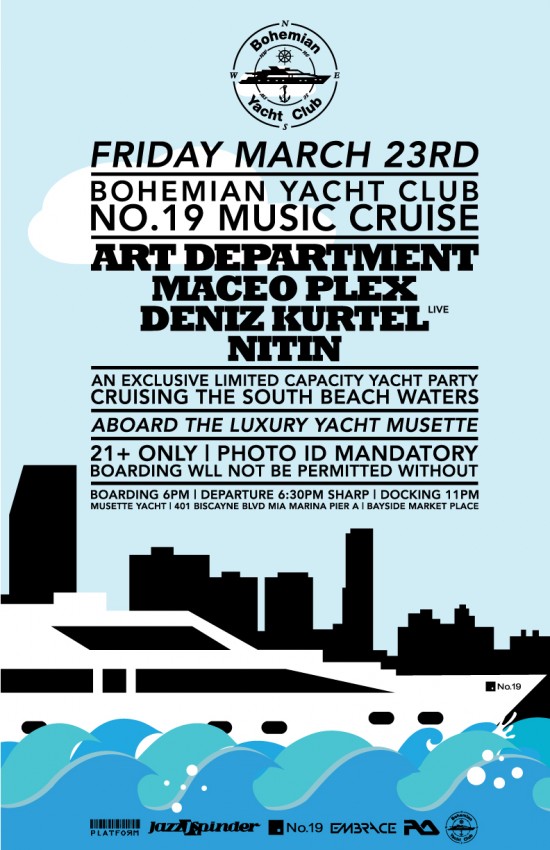 March 23, 2012
** Tickets now available on Resident Advisor ** http://www.residentadvisor.net/bohemianyacht The Bohemian Yacht Club is Back for W.M.C 2012 This year we are proud to announce the No.19 Label Cruise. Line-up: Art Department Maceo Plex Deniz Kurtel(live) Nitin Presented by: Bohemian Yacht Club, ..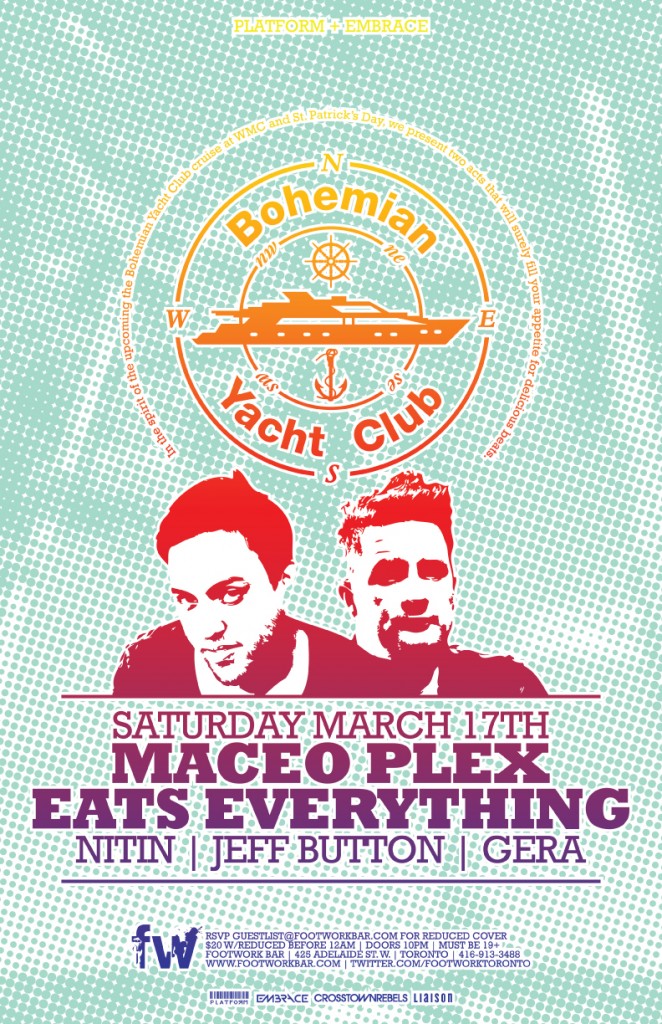 March 17, 2012
On Saturday March 17th 2012 Platform+Embrace present: The Bohemian Yacht Club Night and St. Patty's Day Mega Blowout!!!! With Confirmed Super Producers: MACEO PLEX (Crosstown Rebels/Vision Quest/Get Physical/No.19) EATS EVERYTHING (DirtyBird/Get Fresh/Made To Play) NITIN (No.19/Platform ..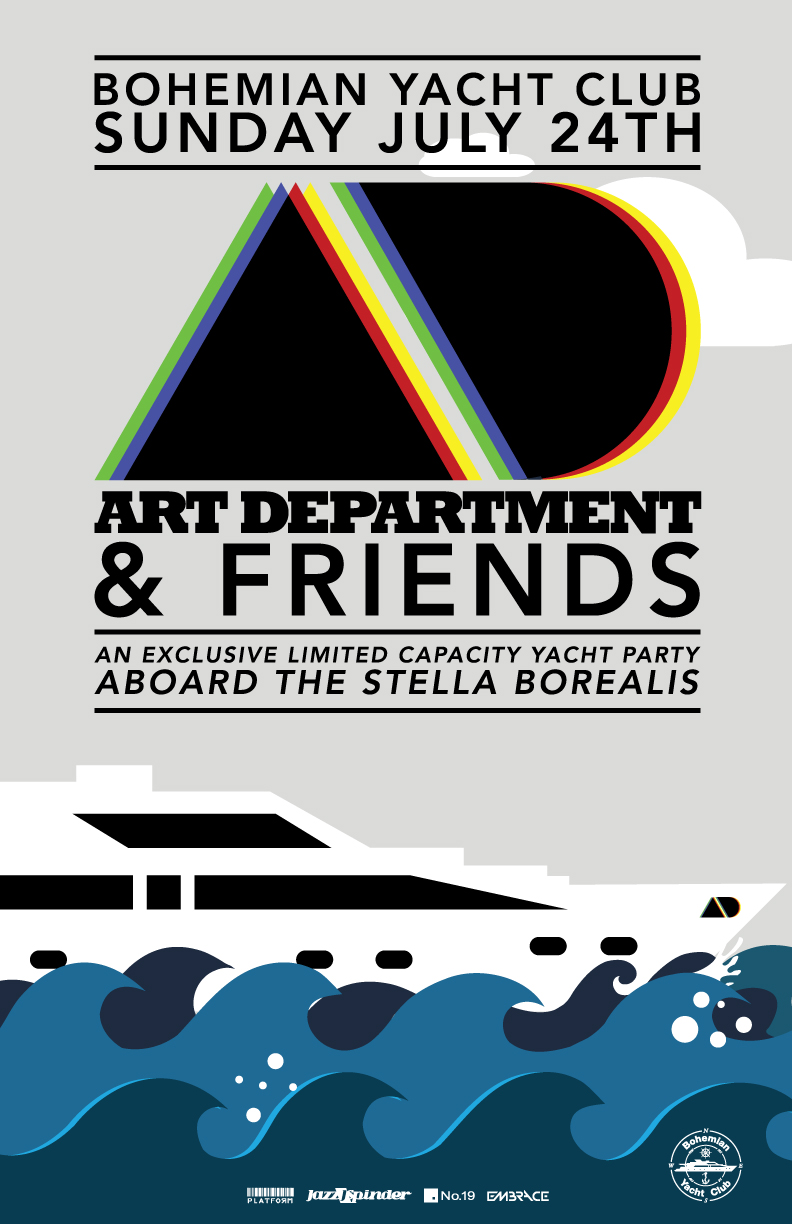 July 24, 2011
The Bohemian Yacht Club touches down in Toronto. A 250 person Limited Capacity Yacht Party. Featuring... ART DEPARTMENT (Crosstown Rebels/No.19) + friends Since their hit "Without You" charted number one on Resident Advisor's top 50 tracks of 2010*, Art Department has been on fire. The brainch ..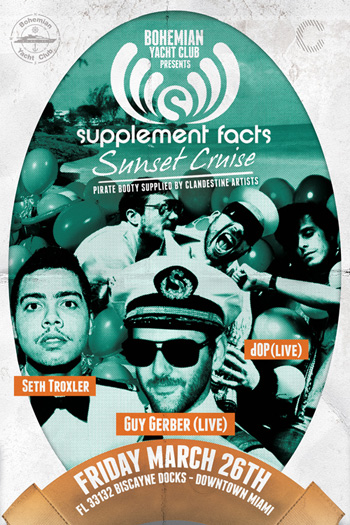 March 26, 2010
On Friday March 26th 2010 W.M.C Miami Platform+Clandestine invite you to the Ultimate W.M.C Boat Cruise and Label Showcase. We are proud to present our new Concept: Bohemian Yacht Club Supplemental Facts Sunset Cruise Aboard The Luxury Yacht Aqua For this special Event we Showcase Captain Guy ..